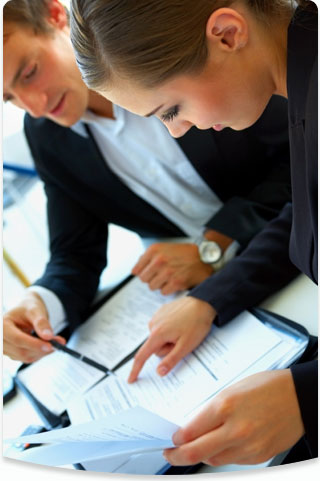 Services
Pay Per Click Advertising

Reach
We reach your consumers in a relevant and accountable way on a massive advertising scale.

ROI
We measure and improve your return on investment quickly and easily with our simple reports.

Relevance
We show your ads to potential customers when they're actively searching for what businesses like yours have to offer.

Value in Hiring Professionals
We have the extensive experience and proficiency necessary for optimizing your PPC campaigns.
Search Engine Optimization

On-Site SEO Best Practices Install
We consult with your web development team to ensure best practices are applied to the architecture and design of your website.

Keyword Analysis
We uncover what keywords are driving the most organic traffic and determine methods for increasing the number of those visits.

Off-Site Link Analysis
We utilize SEO tools to determine the number and quality of links to your website.

Press Release Optimization
We create and distribute SEO-friendly press releases for all of your newsworthy events to help create buzz, increase online visibility and drive website traffic.
Social Media Marketing
Blog Updates
We post at least one blog per month. Our blog writing focuses on consumer education, brand promotion, and SEO.

Facebook Updates
We update your page weekly with company news or post discussion topics to create buzz and to strengthen your brand.

Twitter Updates
Tweets featuring informational company updates are posted and promoted on your existing or new Twitter account.

Online Reputation Management
We monitor your reputation with the goal of neutralizing content on the Internet.
Website Design & Development
Website Design Process
We work with you to brainstorm how the website will serve your business objectives. We then develop site maps and mockups. Your final approval is needed before we move onto the development phase.
Website Development Process
We build out interfaces and backend functionality using HTML and CSS. Once complete, the project moves to a staging site, undergoes rigorous testing, and is finally launched into live service at your domain.

Content Management Systems
Keeping content fresh is very important for online marketing. Our websites are built in content management systems, allowing website administrators and business owners to easily update their sites with rich text editors. We're fluent in a range of open source systems.

Website Programming Best Practices
Our sites are built paying special consideration to web standards compliance and web accessibility standards.
Web Analytics Consutling

Advertising ROI
We measure the success of your display, search, new media, and offline advertising efforts.

Customized Reporting
We create the reports, dashboards, and segments that make the most sense for your business.

Cross Channel and Multimedia Tracking
We compare your site usage metrics with industry averages and track Flash, video, and social networking sites and applications.

Visualizing Data
We uncover trends, patterns, and key comparisons with funnel visualization, motion charts, mapping, and more.
Website Optimization

Increase Sales & Conversion Rates
We identify the winning content combinations that drive conversions and increase ROI, regardless of site type.

Improve Landing Pages
We reduce the number of would-be customers you lose through ineffective landing pages. Automated testing makes it easy to fix and deploy compelling landing pages.

Increase Visitor Satisfaction
We uncover your best content, engage your visitors, and capture more attention.

Decrease Cost Per Acquisition (CPA)
We leverage empirical data from real visitors and use testing to drive conversions and lower CPA.
Additional Internet Marketing Services

Display Advertising
We create, place, and track professionally-designed display ads on any number of relevant web properties.

Email Marketing
We create, send, and track professional HTML email campaign solutions. We are able to track from when an email is first opened to when a final transaction is made on your website.

Behavioral Retargeting
We tag your website visitors with a cookie, allowing for your display ads to be shown to them across the web for a specified amount of time.

Affiliate Marketing
We launch and manage programs over a number of online networks. We work with our clients to determine which sites are most appropriate for driving leads and sales.
Offline Brand & Identity Development

Business Cards
We design and manage the printing of your business cards. Designs are full color, double-sided and can incorporate QR codes to give you an edge over the competition.

Brochures
We design bi-fold and tri-fold brochures, sales brochures, business flyers, and other corporate identity packages.

Direct Mail
We create effective direct mail marketing campaigns for postcards, letter packages, newsletters, and more.

Trade Show Booth Graphics
From banner stands to pop-up displays, we offer full design packages and manage the printing of all your visual graphics with quick turnaround times to ensure you are demanding attention at your next trade show.